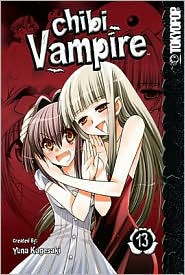 Title:
Chibi Vampire Volume 13
Published: Los Angeles : Tokyopop, 2009
Series: Volume 13, Chibi Vampire
Summary:
Karin, in rapture since sharing a first kiss with Kenta, comes back down to Earth when a sinister group of vampires arrives threatening to expose her secrets.
Review: I loved the 12th volume of Chibi Vampire. And I loved this one too. It was sooo good. And the ending was very very dramatic. And it left me wanting the next book so badly.
Things are definitely very exciting. I pretty much sat down and read this in a sitting because I just wanted to know what was happening.
The illustrations were once again very good. I really like the pictures. Which is actually unusual for me because to be honest I'm not really into pictures because I prefer to imagine the stuff in my head myself.
The new characters introduced were very interesting.
Overall, things are definitely heating up and wow it was so exciting. I cannot wait to read the next book in the series and unfortunately I have to wait because the library doesn't have it yet. And what's worse is that volume 14 is the last book in the series. I hope that it is a good one.