This week was quite a good week as in the mailbox I got 2 Cleopatra's Daughter Bookmarks and a signed bookplate from Michelle Moran, so that was really cool.
Also, I got a couple of book from the library which are graphic novels so I can read through them in no time.
Chibi Vampire Volume 13 by Yuna Kagesaki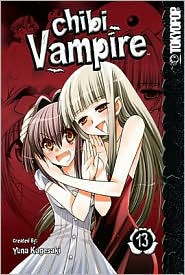 Karin, in rapture since sharing a first kiss with Kenta, comes back down to Earth when a sinister group of vampires arrives threatening to expose her secrets.
Vampire Kisses, Blood Relatives Volume 2 by Ellen Schreiber
Sixteen-year-old Raven, a vampire-obsessed goth girl, searches for her true love, Alexander, who she has learned is a real vampire.
Well thats it for me this week. I can't wait to see what everyone else got.