In my Mailbox was created by
The Story Siren
.
This week I was at home sick all week, so I did get a bit of reading done. Also, I got three books this week. Two from the library and one in the mail. The one in the mail was a bit of a surprise actually.
The Funny Thing is... by Ellen Degeneres
After years of painstaking, round-the-clock research, surviving on a mere twenty minutes of sleep a night, and collaborating with lexicographers, plumbers, and mathematicians, DeGeneres has crafted a work that is both easy to use and very funny. Along with her trademark ramblings,
The Funny Thing Is...
contains hundreds of succinct insights into her psyche and offers innovative features .
I have already read this and let's just say yep, it is definitely pretty funny. My review for this will be up sometime in the near future. I kind of have plans for October so it may not appear until November.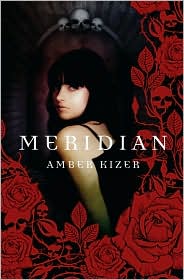 Half-human, half-angel, Meridian Sozu has a dark responsibility.

Sixteen-year-old Meridian has been surrounded by death ever since she can remember. As a child, insects, mice, and salamanders would burrow into her bedclothes and die. At her elementary school, she was blamed for a classmate's tragic accident. And on her sixteenth birthday, a car crashes in front of her family home—and Meridian's body explodes in pain.

Before she can fully recover, Meridian is told that she's a danger to her family and hustled off to her great-aunt's house in Revelation, Colorado. It's there that she learns that she is a Fenestra—the half-angel, half-human link between the living and the dead. But Meridian and her sworn protector and love, Tens, face great danger from the Aternocti, a band of dark forces who capture vulnerable souls on the brink of death and cause chaos.
They're talking layoffs at work, slowdowns in the economy, flare-ups in the Middle East, turnovers at headquarters, downturns in the housing market, upswings in global warming. The plague of our day, terrorism, begins with the word terror. Fear, it seems, has taken up a hundred-year lease on the building next door and set up shop. Oversized and rude, fear herds us into a prison of unlocked doors. Wouldn't it be great to walk out?
Imagine your life, wholly untouched by angst. What if faith, not fear, was your default reaction to threats? If you could hover a fear magnet over your heart and extract every last shaving of dread, insecurity, or doubt, what would remain? Envision a day, just one day, where you could trust more and fear less.
Can you imagine your life without fear?
I was really surprised to get this in the mail because I already read and reviewed it in e-book form. But it's always a nice surprise to get books in the mail.