1001 Ways to Get in Shape by Susannah Marriott
Published: New York : DK Publishing, 2009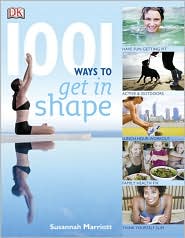 Getting fit can be daunting task, but it doesn't need to take over your life.
1,001 Ways to Get in Shape
gives you loads of little tips that you can work into your normal lifestyle, so you won't have to find time to sweat it out at the gym every day. This book is not bossy or demanding or hard to maintain as many fitness regimes can be. The emphasis is on fun, and it contains an eclectic mix of ideas from everyday situations such as brushing teeth to avoiding the urge to snack or using a pedometer to track your activity level.
I really liked reading this book. It is the first non-fiction that isn't a textbook that I've read for a while that I can just read in little bits at a time.
I found most of the 1001 things to be really interesting and I could see myself doing some of those things. Some of them of course, didn't really appeal to me. But that doesn't matter because of 1001 things you shouldn't expect them all to be suited to your lifestyle etc.
While this book is an adult book, as a person on the outside of fully being a teenager and not quite an adult either I find this book is quite helpful and as I get older some of the other things will become more appealing.
As these days so many people are falling behind the healthy lifestyle this book is a really good way to get some healthy activity advice which you can bring into your everyday lifestyle.
Overall, I think this book is a really good, really interesting guide about lots of different bits and pieces about how to keep healthy. While this book is probably for more adult people I think it would be good for anyone to read because you can take what you want from it.
So if you see this book, pick it up because you might just find something useful in it.