Jennifer's Body by Audrey Nixon
Published: New York : HarperTeen, c2009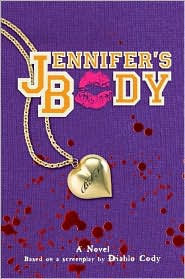 A newly possessed cheerleader turns into a killer who specializes in offing her male classmates. Can her best friend put an end to the horror?
Jennifer's Body is a really cool read. It's a horror spoof book which has a little bit of humour and a lot of gore. Which was something I found to be quite an interesting read.
Like a lot of spoof things, I thought this was going to be a badly written tale. It actually wasn't. It was written quite well and it kept me entertained the entire time I was reading it. I just kept wanting to know what was going to happen next.
I found Jennifer's Body to be predictable in some places but I felt that it didn't really matter about predictability because it was still highly entertaining.
If you're looking for a short, entertaining read pick up Jennifer's Body the next time you see it.
There is also a movie of this which comes out in theatres around the world quite soon so I will definitely be going to see that too.