This week I went to the library three times. Basically I went three times because I was collecting all my holds because I'll be going away next week to my hometown to see my family etc. Because I have a two week holiday. So anyway, here are the books I got this week:
Prophecy of the Sisters by Michelle Zink
Twin sisters Lia and Alice Milthorpe have just become orphans. They have also become enemies. As they discover their roles in a prophecy that has turned generations of sisters against each other, the girls find themselves uncovering a lifetime of secrets. Secrets that could destroy everything.
Lia and Alice don't know who they can trust.
They just know they can't trust each other.
I'm really excited to get this book. It sounds like a super awesome book and so I definitely cannot wait to read this one.
Eager to learn everything she can about her new abilities as an Immortal, Ever turns to her beloved Damen to show her the way, but just as her powers are increasing, his are in decline, and as she searches for a way to save him, she finds herself with a wrenching choice to make.
I was super happy to get hold of this book. Yay! I've read
Evermore
and I really liked it. If you click on the word Evermore it will take you to my review of it. Anyway, I've heard really good things about this book and I cannot wait to read it.
Love you to Death by Meg Cabot
There's a hot guy in Susannah Simon's bedroom. Too bad he's a ghost.
Suze is a mediator-a liaison between the living and the dead. In other words, she sees dead people. And they won't leave her alone until she helps them resolve their unfinished business with the living. But Jesse, the hot ghost haunting her bedroom, doesn't seem to need her help. Which is a relief, because Suze has just moved to sunny California and plans to start fresh, with trips to the mall instead of the cemetery, and surfing instead of spectral visitations.
But the very first day at her new school, Suze realizes it's not that easy. There's a ghost with revenge on her mind.and Suze happens to be in the way.
This one is the first in the Mediator series and in the US it has the title Shadowland. I got this one out because it sounds like a really good book, it will help me with my Meg Cabot reading challenge and there is a little thing coming up soon to do with this book and a few others.
Jennifer's Body by Audrey Nixon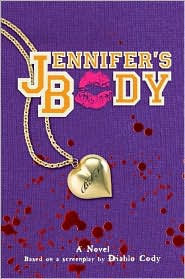 A newly possessed cheerleader turns into a killer who specializes in offing her male classmates. Can her best friend put an end to the horror?
The first thing that drew me to this book was actually a movie trailer on
Apple Trailers
. I wouldn't normally have looked at something like that but Jennifer's Body is also the name of a song by Hole which is a band I like and anyway, I watched the trailer and it looked really cool, like spoofy horror. So when I saw there was a book at the library I got it out. The book is actually based on the movie. I've started reading it and it's quite short so I should be finished it by the time you see this.
Umm just before I go I wanted to talk about my poll. It finished as you can see and I have put another one up. So the winner of my last poll as voted by you, the reader was Looking For Alaska by John Green. So as soon as I finish Jennifer's Body I will be moving on to Looking for Alaska.
Thats it from me, I cannot wait to see what everyone else got.